VINOTHEQUE & TASTING
During January and February our vinotheque is open on weekdays from 11:00 am to 5:00 pm and on the weekends from 10:00 am to 6:00 pm for tasting, information and sale.
From March on the vinotheque will again be open daily from 10:00 am to 6:00 pm.
If interested we will also be glad to send you our price list via e-mail.

Grabenstrasse 8
Fon + 49 (0) 6722 47225 · Fax + 49 (0) 6722 910313
E-mail: vinothek@georg-breuer.com

WINE TASTING in our historic Kellerwelt – minimum 15 persons
| | |
| --- | --- |
| Tasting of 3 wines (up to 45 min) | Euro 9,50 |
| Tasting of 4 wines (up to 60 min) | Euro 11,50 |
| Tasting of 5 wines (up to 75 min) | Euro 15,00 |
| Tasting for students/schools: 1 wine (up to 30 min) | Euro 4,50 |
You can extend your tasting:
| | |
| --- | --- |
| Cheese with the wine | Euro 4,00 |
| Personalized Wine Connaisseur Certificate | Euro 2,00 |
(prices per person)
Please contact us in case you are interested in tastings for smaller groups!

VINEYARD WALK – minimum 15 persons
We take you on a leisurely walk through the Rüdesheim vineyards (1 glass of Riesling and crunchy breadstick).
Euro 15,00 per person
We will be glad to also offer you an expanding wine tasting in our Kellerwelt after the tour.

VINEYARD HIKE – up to 40 persons
Guided walk from Rüdesheim to Assmannshausen. Passing the Ehrenberg Rock, the peak position Schlossberg overlooking the Rhine, the Mouse Tower and the Binger Loch (Time: 2 hours for one way).
Euro 100,00 (group rate)
On request additional:

| | |
| --- | --- |
| Cable car to Niederwald Monument | Euro 5,50 |
| Return boat trip | Euro 7,00 |
| Crunchy breadstick and 1 glass of Riesling | Euro 8,00 |
| 1 glass of Pinot Noir in Assmannshausen | Euro 5,00 |
(prices per person)

PICKNICK IN THE VINEYARDS – minimum 25 persons
Enjoy spectacular prospects on a 5km hike through the vineyards from Rüdesheim to Assmannshausen.
Good shoes are recommended!
You will be accompanied by our tour guide – ask everything, you ever wanted to know about wine.
Your table is dressed in the vineyards: Farmers bread, lard and cottage cheese, vegetable stew with sausages, cake with butter and almonds, Riesling wine and water.
Euro 30,00 per person

TOUR OF THE ESTATE – 10 to 20 persons
Touring the press house and cellars, we explain our philosophy of wine making and present some of our wines.
This tour is especially suited for a small but very wine orientated group.
Euro 28,00 per person
Time: 2 hours

FESTIVE WINE TASTING in our historic Kellerwelt – minimum 15 persons
We present 7 different wines from our estate and explain our philosophy of wine making.
Includes tasting sheet and individual Certificate for each participant.
Euro 25,00 per person
Time: 1.5 hours

GRAND CULINARIUM in Rüdesheimer Schloss – minimum 10 persons
Enjoy the balance of wine and food on our set table.
The 4-course meal includes aperitif, digestif, coffee and six wines.
Here an example: GB Riesling Brut Sekt | GB Sauvage Riesling + Ducks breast and lentil salad | Rüdesheim Estate Riesling + Salad of fresh asparagus and ham of local wild boar | Terra Montosa + Stuffed trout | Rüdesheim Berg Rottland Riesling + GB Spätburgunder + Roasted lamb and beans | Rüdesheim Bischofs­berg Riesling Auslese + Gratinated apples and Riesling cream
Euro 84,00 per person
Time: 3.5 hours
WINE TIME: Walk & Taste – Rüdesheim's wine estates invite you to embark on a memorable wine tasting tour
Enjoy a varied wine tasting walk that visits a number of Rüdesheim's wine merchants and allows you to taste a total of 8 wines for a price of just € 12.50. Add the wine merchant in Assmanshausen for a total of 10 wines for € 15.00. Start your walk at any participating wine merchant and taste two wines – the favourite house wine and a wine of your choice. Then continue to the next wine merchant.
At the end of your odyssey you will receive a wine glass as a memento.
A cooperation with Weingut Allendorf, Drosselkellerei, Nägler's Weindepot and Berg's Vinothek.
The WineTime pass can be purchased at all participating wine merchants and the Rüdesheim Tourist Information Office.

All prices are per person and include VAT.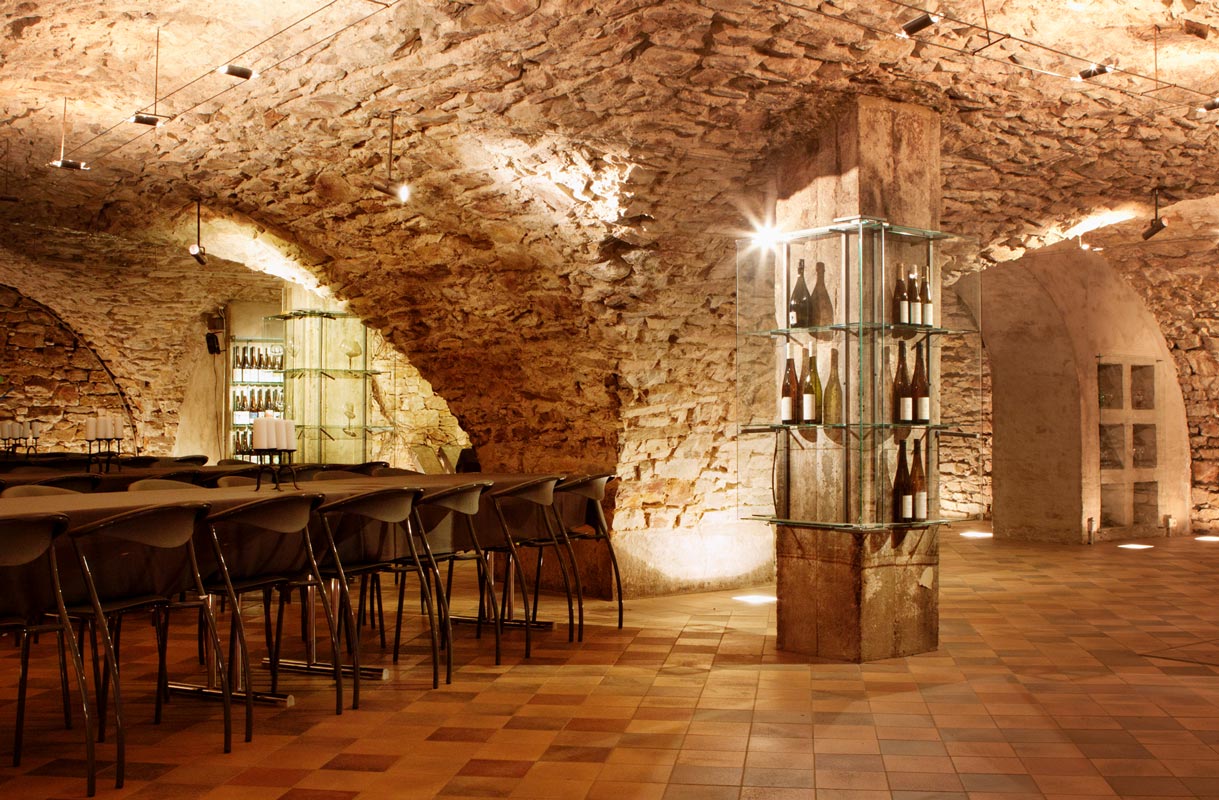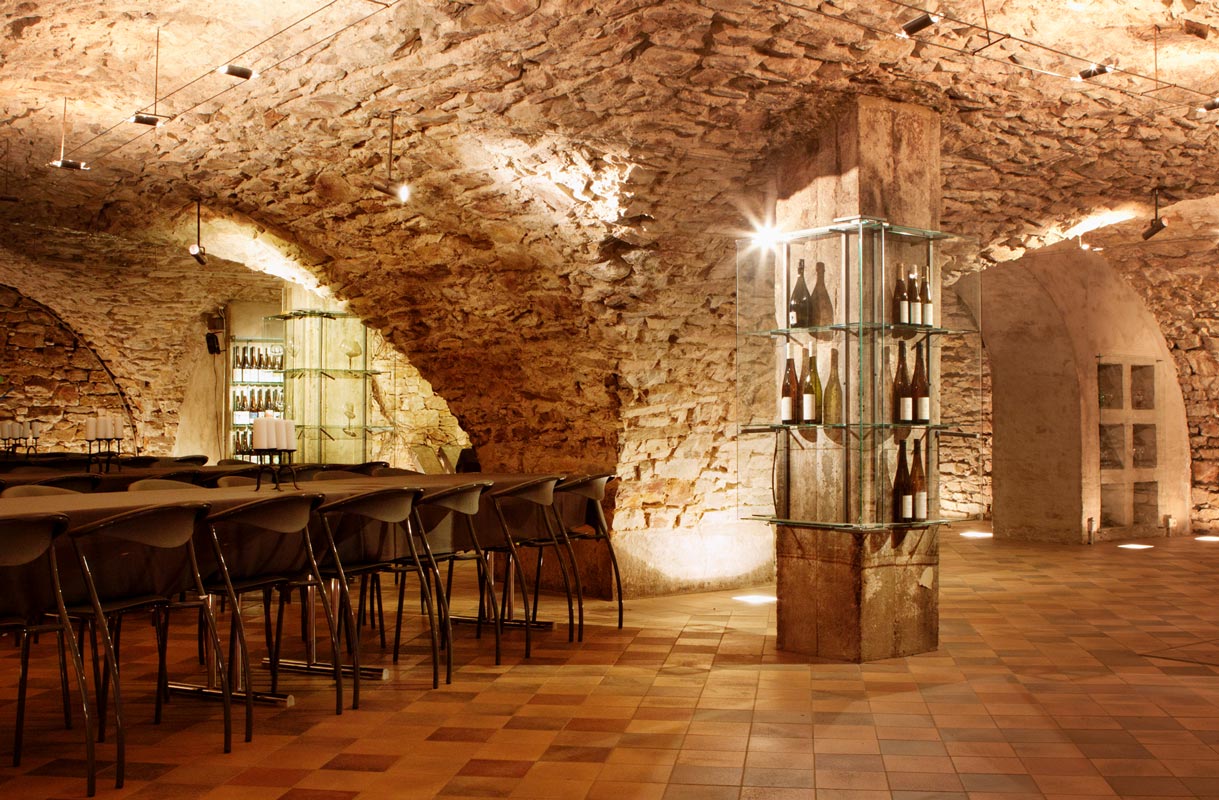 BREUER'S KELLERWELT
In the year 2000 we expanded our offer for the wine and culture enthusiast with our historic Kellerwelt.
On an expanse of about 300 square meters art objects, craft objects of wine production, collections of glasses, labels and bottles can be seen.
By arrangement these extraordinary premises can be put at your diposal for special events.